OVER DINSDALE BRIDGE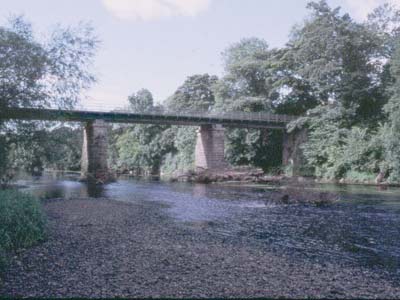 The bridge joins the village of Over Dinsdale with Low Dinsdale to the south. The Romans also bridged the river hereabouts. It is the third bridge on the site. The first, built at the instigation of the Rev W. S. Temple, allowed workers on the Surtees estate to cross the Tees to attend church on the Durham (south) side. It was wooden and rested on stone piers but in 1856 the timber was replaced by a brick arch. This later collapsed with the loss of two lives and a new bridge was built of wrought iron. Steel beams were substituted for trussed beams and the toll bridge was taken over from the Over Dinsdale Estate by the North Riding County Council in 1955. The structure was modernised in 1956, the deck is now concreted and carries a single line of traffic and a footpath. It was strengthened again in 1993.
The Tees here is noteworthy for the number of loops which exist between Yarm and Croft and forms the boundary between County Durham and North Yorkshire. The countryside consists largely of farmland and there are pleasant views from the bridge and the river's wooded banks are popular with anglers. A Roman bridge once existed upstream. Durham Tees Valley airport lies north of the river loop. It is a strangely little known part of the Tees, close to both Darlington and Middlesbrough yet somehow remote, rural, quiet and untroubled by the noise and bustle of those towns.


Over Dinsdale Bridge Facts
Constructed - 1839?

Type - beam, steel on stone pillars, concrete deck, 4 spans.

Position: Over Dinsdale, North Yorkshire.

Grid Ref: NZ 346 115
Over Dinsdale Bridge