BARFORTH HALL BRIDGE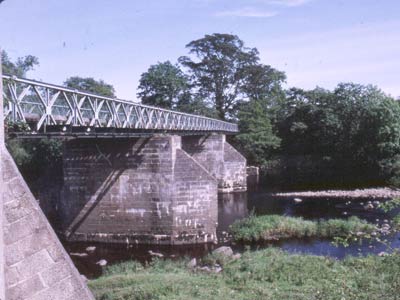 Another privately built bridge, connecting Gainford to Barforth Hall. It is situated along a track from the south end of the village and uses Bailey bridge girders on masonry piers constructed from concrete blocks. The deck uses old railway sleepers. Once crossed by means of a ford or a ferry, the Tees passes Gainford to the south on a bend.
Gainford is a very attractive and historic village and in the 18th century was a spa. Cottages and houses, some Georgian, surround the large green. Gainford Hall is nearby, a Grade 1 listed building. Gainford academy, once a 19th century private school counted Stan Laurel, then Arthur Stanley Jefferson, among its pupils. Across the bridge once stood the medieval village of Barforth where the ruined chapel of St Lawrence still stands.
There are fears that this bridge may collapse and police are advising that it should not be crossed. It is unclear who actually owns the bridge.
Barforth Hall Bridge Facts
Constructed - late 1950s

Type - beam, Bailey.

Position: near Gainford, County Durham.

Grid Ref: NZ 166 167
Barforth Hall Bridge