INFINITY BRIDGE, STOCKTON-ON-TEES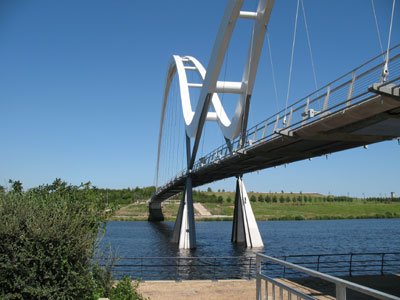 The newest bridge on the River Tees is a pedestrian and cycle bridge linking the North Shore devlopment with the University of Durham's Queen's Campus and the Teesdale Business Park. There are two asymetrical arches and the arched section is 180 metres long, (main arch 120m) and is 273 metres overall, and uses 450 tonnes of locally produced steel. It creates a reflection in the river forming the mathematical infinity symbol, hence its name.
The central pier is supported by 12 tubular steel piles driven into the river bed. The top of the main arch is 40 metres above the Tees and the footway is 4 metres wide. At night the footway is lit by blue and white LED lighting which are designed to change colour as people cross. Infinity Bridge is funded by Stockton Council, English Partnerships, One NorthEast and the European Regional Development Fund, and was built by contractors Balfour Beatty and sub-contractors Cleveland Bridge and Dorman Long and cost £15m.
The successful competition design was by Expedition Engineering and Spence Associates. The subsequent design was led by Expedition assisted by Arup Materials, Balfour Beatty Regional Civil Engineering, Black and Veatch, Bridon, Cambridge University, Cleveland Bridge UK, Dorman Long Technology, Flint and Neill, Form Fab, GCG, GERB, Imperial College, RWDI, Spence ASsociates, Speirs and Major, Stainton, and William Cook. White Young Green were project managers. (I am indebted to Spence Associates for this information).


Infinity Bridge Stockton Facts
Constructed - 2009

Type - 2 arch, steel, concrete decking and end piers.

Position: Stockton-on-Tees.

Grid Ref: NZ 454 191
Infinity Bridge Stockton