COW GREEN RESERVOIR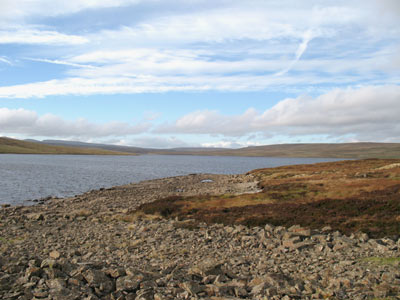 Cow Green Reservoir was built for the Tees Valley and Cleveland Water Board mainly to supply water to the industries around the Tees Estuary and Darlington. It was constructed by the Mitchell Construction Company over a period of several years in the spring to November periods, when the weather allowed work to progress. The location was chosen for its large catchment area and mimimum disrruption to farming. It was opposed by conservationists who objected to the destruction of several species of rare alpine plants. After a Parliamentary enquiry the scheme went ahead and the area has become part of the Moor House - Upper Teesdale National Nature Reserve managed by English Nature. A considerable area of importance was nevertheless lost, though many rare plants remain.
The reservoir is about 2 miles long and the border of County Durham and Cumbria runs down the middle. It is reached by a minor road from the B6277 from the Langdon Beck Hotel and from the car park a footpath leads south to the reservoir. Leaflets are available from local Tourist Information Centres or can be downloaded from the Internet. The dam has a concrete section and an earth embankment with a building housing valves controlling the flow of water into the Tees below. It then passes downstream to extracion points near Darlington and at Low Worsall. The reservoir is over 500 metres above sea level and to the west are views of Cross Fell, Little Dun Fell, Great Dun Fell, and Knock Fell. Upstream from Cow Green the Tees enters increasingly remote country. There are no public footpaths along its banks. The Pennine way turns off at Birkdale bridge and goes towards Dufton in Cumbria. The reservoir is the biggest man made structure on the river and the area has many remains of the lead mining which took place over a wide area of the North Pennines. The vegetation changes according to the underlying rock and soil. Grass and mosses grow in the poorly drained soil, while wild plants, including alpine varieties, are found on limestone-produced soils.
Birds are to be seen and heard on the moorlands and rabbits and sheep wander the fells. The area has many human visitors too, whether looking at the reservoir or walking the Pennine Way.
Cow Green Reservoir Facts
Constructed - 1967 - 1971.

Type - not applicable.

Position: near Langdon Beck, County Durham.

Grid Ref: NY 810 309
Cow Green Reservoir