VICTORIA BRIDGE, STOCKTON-ON-TEES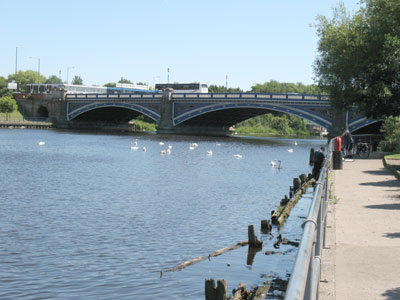 "The River Tees has played an important part in shaping Stockton's development. ... By the mid-eighteenth century, Stockton had become a thriving Hanoverian township. ... During the late eighteenth and early nineteenth centuries, Stockton gained in importance as s shipbuilding centre, and local yards built vessels for the Royal and Merchant navies as well as a large number of colliers. ... Until 1911 Stockton remained the lowest bridging point on the Tees."

The River Tees. A North Country River. R. Woodhouse. 1991.
Spanning the Tees between Stockton and Thornaby this is an elegant 3-arched road bridge with stone piers and wrought iron arches. It opened in 1887 and its name commemorates the 50th year in the reign of Queen Victoria and replaced an earlier bridge of 1771 which in turn had replaced the Bishop's Ferry. It was designed by Messrs H Hayter and Chas. Neale and was built by Whitaker Brothers, Leeds at a cost of £85000 which was funded by local councils with contributions from the Tramway Company, North Eastern Railway and the Water Board. the centre span is 110 feet and the side spans 85 feet each. The bridge is 60 feet wide. It was used by trams until 1931.
Although it is an old bridge it can carry modern traffic and its low level and graceful arches make it one of the more attractive bridges in the area. Stockton was once the major port on the Tees, superceding Yarm until itself being superceded by Middlesbrough/Teesport.


Victoria Bridge Stockton Facts
Constructed - 1887

Type - 3 arch, iron and stone.

Position: Stockton-on-Tees.

Grid Ref: NZ 449 184
Victoria Bridge Stockton