LOW HAIL BRIDGE, HURWORTH-ON-TEES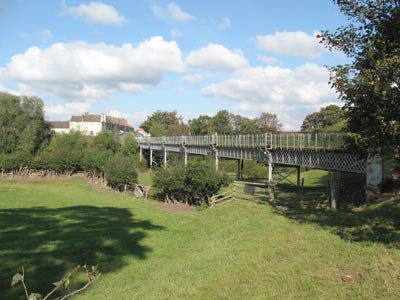 Situated at the east end of Hurworth, this privately built bridge crosses from the village to Low Hail Farm on the south side of the Tees. It is a fairly long bridge, of wrought iron and was built in 1870 by Robert Robinson of Darlington. The £2000 cost was shared by Lord Rokeby on the Yorkshire side and the Hurworth ratepayers in County Durham. Wide enough for road traffic, sewer pipes are also carried, going to a sewage works on the Yorkshire side. The bridge is in a rather neglected state at present.
Hurworth is on the north side of the still meandering river and the bridge marks the end of the village. The river is quite rural here and green fields can be seen to the south and east. The village was once a linen weaving centre and some old buildings still exist.


Low Hail Bridge Facts
Constructed - 1870 (or 1877-79 from another source)

Type - lattice girder, 7 spans, wrought iron.

Position: Hurworth-on-Tees, County Durham.

Grid Ref: NZ 311 100
Low Hail Bridge