CROFT ROAD BRIDGE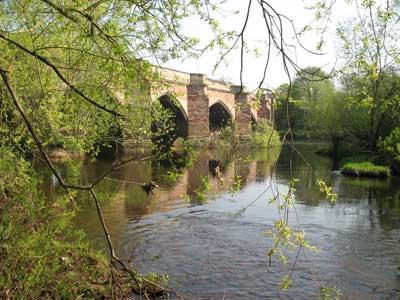 "The village of Croft stands at an important bridging point, but this collection of imposing Georgian residences has many other points of interest."

The River Tees. A North Country River. R. Woodhouse. 1991.
Floods destroyed an early timber bridge at Croft in 1356 and rebuilding was financed by tolls in the reign of Edward III. In the 15th century the present bridge was built. It is one of the Tees' finest bridges. Seven stone arches carry the A167 road between Hurworth-on-Tees in County Durham and Croft in North Yorkshire. Much restored, and widened in 1795, it was for a century and a half until 1879 on the turnpike between the two counties. It is built of red or brown sandstone and a stone erected in 1673 on the third arch from the Hurworth side marks the county boundary. River water reached the top of the arches during the 1995 flooding. The bridge is Grade 1 listed.
Charle Lutwidge Dodgson, better known as author Lewis Carroll, spent some of his childhood years at Croft where his father was rector, and he may have found inspiration for Alice in Wonderland here. A carving in St Peter's church is said to have inspired the Cheshire Cat. The River Skerne joins the Tees just before Croft on the Durham side.


Croft Road Bridge Facts
Constructed - 15 C

Type - 7 arches, stone.

Position: Croft, North Yorkshire.

Grid Ref: NZ 290 098
Croft Road Bridge