GAINFORD RAILWAY BRIDGE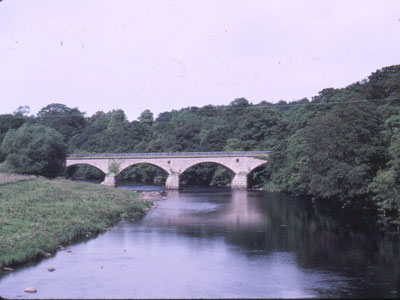 On the Darlington to Barnard Castle branch of the North Eastern Railway, this is a disused bridge, the line having closed on 30 November 1964 with the closure of the Barnard Castle to Middleton-in-Teesdale branch. The line from Barnard Castle going west across Stainmore to Kirkby Stephen had been closed earlier on 22 January 1962. Originally built as an independent line, though worked by the Stockton and Darlington Railway, and opened in July 1856, in 1861 it was extended west by the South Durham and Lancashire Union Railway to Kirkby Stephen to link the Durham coalfields with the ironworks and iron-ore deposits to the west of the Pennines. The Tees Valley Railway branch from Barnard Castle to Middleton opened in May 1868 and was worked by the North Eastern Railway.
This bridge and the West Tees bridge too were built to avoid the line passing through Selaby Hall and Park grounds after opposition to the railway from Lord Cleveland. A pleasing low stone bridge it is best viewed from the Barforth Hall bridge downstream. The bridge was purchased by Durham County Council in 1990 and the Teesdale Way runs close by.
Gainford Railway Bridge Facts
Constructed - 1856

Type - arch, stone, 2 spans.

Position: near Gainford, County Durham.

Grid Ref: NZ 165 170
Gainford Railway Bridge