BARNARD CASTLE TO TEES SOURCE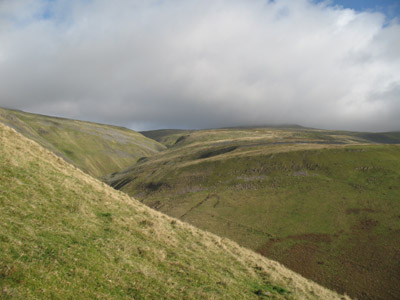 "The North Pennine Dales contain some of this country's most spectacular scenery, and it is here on the eastern slopes of Cross Fell that the Tees begins its ninety-eight mile journey to the North Sea. "

The River Tees. A North Country River. R Woodhouse. 1991
The river moves along Teesdale past several attractive small villages, the main road high on the hill to the north, the former railway to the south, before reaching the stone-built town of Middleton-in Teesdale with its old stone bridge. This is former lead-mining country, but the river banks are tree-lined and the valley increasingly remote, with farms scattered along the dale.
Eventually the gorge crossed by the Winch Bridge followed by the falls at Low Force are reached, and soon come the much more spectacular falls at High Force, England's biggest waterfall. Then to Cronkley Scar, a high cliff face before reaching the spectacular Cauldron Snout, a series of steps forming a cataract cascading through 8 falls and dropping over a length of 1200 feet (300 metres). A short distance up river is Cow Green Reservoir with its massive dam and then Moor House, a wild and remote area with the first Tees bridge, and eventually comes the river's source high up in the North Pennines near Cross Fell.
The bridges from Middleton west are all footbridges, though some are wide enough and strong enough to be driven over by farm vehicles. Much of the area is part of Upper Teesdale National Nature Reserve and there are footpaths and nature trails enabling exploration of the geology, plant, animal and birdlife around. The Pennine Way passes by here on its way to Middleton from where the Teesdale Way commences, running all the way to Middlesbrough and the Tees Estuary.
Opening Dates of Present Bridges
Cotherstone Footbridge - 1932

Eggleston Bridge - 1450?

Beckstones Wath Footbridge - 2002

Middleton-In-Teesdale Bridge - 1853

Scoberry Footbridge - 1971

Winch Footbridge - 1830

Holwick Head Footbridge - 1998

Cronkley Bridge - not known

Birkdale Footbridge - 1966

Moor House Bridge -not known
Winch Bridge