WALKERBURN BRIDGE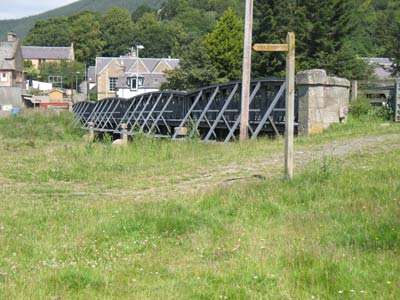 "Nothing but a farmhouse and steading until 1855 when Henry Ballantyne of Galashiels founded the Tweedvale Mill for the production of woollen cloth. Tweedholm Mill established by Robert Frier, also from Galashiels, followed in 1859, together with housing for the mill workers, and the village soon became a thriving, self-contained industrial community, one of the last to be created in Scotland."

The Buildings Of Scotland. Borders. Kitty Cruft, John Dunbar and Richard Fawcett. 2006.
A footbridge was built here in 1867 to link the village with the railway station and was replaced by the present road bridge. It carries the Caberston road over the Tweed from Walkerburn village. A ford (Bold Ford) existed here before the bridge was built, otherwise road vehicles had to cross the Tweed at Innerleithen. Prior to the footbridge a ferry existed for a year for railway passengers to cross.
The present bridge was built by Orr Watt and Co. The village has hills to north and south, the Tweed flowing west to east in a narrow valley. There are woods on the south bank.
Walkerburn Bridge Facts
Constructed - 1914

Type - beam, bowed steel trusses, 4 span, masonry piers and one steel pier.

Position: Walkerburn, Peeblesshire, Scotland.

Grid Ref: NT 361 369
Walkerburn Bridge