LADYKIRK AND NORHAM BRIDGE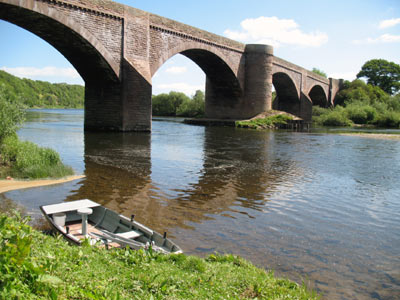 "Further west along the south bank of the river, beyond Horncliffe, lies Norham, whose castle and church are among the great sights of the Border country: little wonder that Turner chose to paint it so often."

The Companion Guide to Northumbria. Edward Grierson. 1976.
Located just west of Norham this is an attractive stone bridge replacing an earlier timber bridge on stone piers of 1838-9 by John Blackmore. It has four arches with cutwaters with a 19C toll house on the Scottish side, and is 16 feet wide. It was designed by Thomas Codrington and Cuthbert Brereton and built by Meakon and Deans and has been rebuilt 3 times, the last time being in 1885. Strengthening took place in 1952. It is Grade 2 listed, category B in Scotland.
Norham is an attractive little village with its castle high above the river.
Ladykirk and Norham Bridge Facts
Constructed - 1885-7

Type - arch, stone, 4 arches.

Position: Norham, Northumberland.

Grid Ref: NZ 890 474
Ladykirk and Norham Bridge