HUNTER'S BRIDGE - KELSO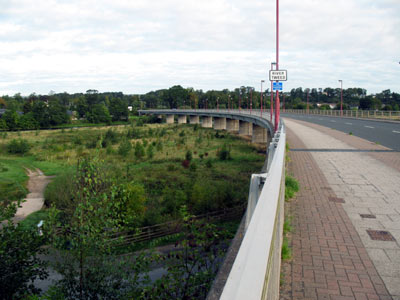 The popular town of Kelso has two bridges, one old and one new. The Hunter bridge was opened in 1998 and by-passes the town to the east. It is a fairly low viaduct, built in concrete and takes the A698 road across the Tweed south west towards Jedburgh. On the south side the bridge crosses the flood plain of the river for some distance. It was built by Blyth and Blyth, engineers, and opened by the Duke of Buccleugh.
An island in the Tweed called Wooden Anna was formerly connected to the south bank by a wooden decked 19th century chain suspension bridge, the remains of which were demolished when the new bridge and by-pass were built. Another island east of here has a bridge connecting it to the north side of the Tweed at Hendersyde Park but there seems to be no public access to it.
Hunter's Bridge Facts
Constructed - 1998

Type - beam, concrete, aluminium parapets.

Position: Kelso, Roxburghshire, Scotland.

Grid Ref: NT 735 339
Hunter's Bridge