BERWICK-UPON-TWEED TO COLDSTREAM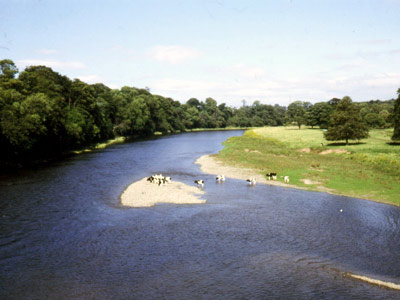 "Berwick is one of the most exciting towns in England, a real town, with the strongest sense of enclosure, a town of red roofs on grey houses with scarcely any irritating buildings anywhere and a town of the most intricate changes of levels."

The Buildings Of England, Northumberland. Nikolaus Pevsner. 1992.
Berwick upon Tweed is a very old town in a strategic position on the English-Scottish border which has changed hands between England and Scotland several times but has been part of England since 1482. Tweedmouth on the south bank of the Tweed is undisputably English though now often considered part of Berwick. The port of Berwick is protected by a pier and has been important for trade from the Middle Ages. At Berwick are four major bridges and the Tweed to the east soon turns south through farmland where it passes the old chain bridge at Horncliffe. Winding south to Norham with its ancient castle high above the river and it continues to the Scottish town of Coldstream with its fine old stone bridge.
Opening Dates of Present Bridges
Berwick Bridge - 1626

Royal Tweed Bridge - 1928

Royal Border Bridge - 1850

Berwick A1 Bridge - 1984

Union Bridge Horncliffe - 1820

Ladykirk and Norham Bridge - 1887

Coldstream Bridge - 1766
Horncliffe - Union Bridge