COLDSTREAM BRIDGE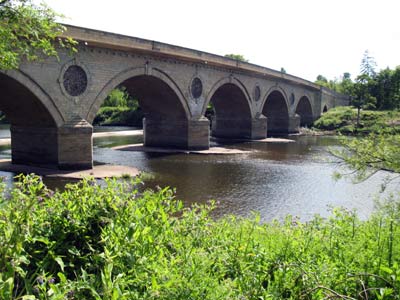 "Small town which proably began as a settlement next to the Cistercian nunnery beside a ford across the River Tweed which had been founded by Gospatrick, Earl of Dunbar, in the mid C12."

The Buildings Of Scotland, Borders. Kitty Cruft, John Dunbar and Richard Fawcett. 2006.
This is one of the Tweed's finest bridges, located at the bottom of a hill from Coldstream on the A697 and leading to the Northumberland village of Cornhill-on-Tweed. The river is fairly wide here and thickly wooded. The bridge was designed by John Smeaton for the Tweed Bridge Trustees and the engineer was Robert Reid on whose design Smeaton partly based his own. It cost £6000. Smeaton also designed the bridge at Hexham in Northumberland.
The Royal Tweed Bridge at Berwick could not take abnormal loads and so Coldstream Bridge was used instead. The bridge was strengthened and cantilevered footpaths added in 1961. Meantime a two-way temporary bridge was built upstream, which rested on the piers of the original bridge. A weir or cauld exists downstream to prevent scouring of the river bed and there is also a fish pass. There are plaques on either side of the bridge; that on the east side gives details of the builders and on the west is one stating that Robert Burns crossed the bridge in May 1787 to enter England for the first time. Category A Listed.
Coldstream is a small town which developed in the 18th century where the Tweed was once forded.
Coldstream Bridge Facts
Constructed - 1763-6

Type - arch, five arches, stone.

Position: Coldstream, Berwickshire.

Grid Ref: NT 849 401
Coldstream Bridge