LEADERFOOT TO WALKERBURN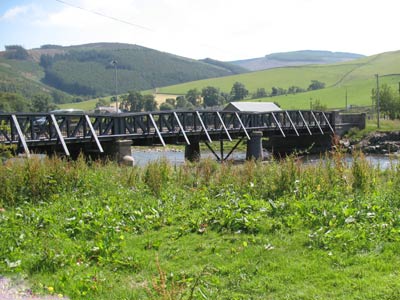 "It was Sir Walter scott, more than anyone else, who shaped the identity of the Borders.

The Buildings Of Scotland, Borders. Kitty Cruft, John Dunbar and Richard Fawcett. 2006.
North of Melrose a suspension footbridge links that town to Gattonside. Further west is the A6091 bridge and at Galashiels is the old railway viaduct which was part of the Waverley line, now open for pedestrians and cyclists. Two major bridges carry the A6091 and A7 roads across the river which then turns west into a wooded valley towards Yair and Walkerburn.
Opening Dates of Present Bridges
Gattonside Suspension Bridge - 1826

Melrose Bridge - 1762

Redbridge Viaduct Tweedbank - 1849

Galafoot Bridge, Galashiels - 1975

A7 Bridge, Sunderland Hall - 1975?

Old Tweed Bridge, Sunderland Hall - 1831

Yair Bridge - 1764?

Low Peel Bridge, Ashiestiel - 1847

Walkerburn Bridge - 1914
Gattonside Suspension Bridge