GATTONSIDE SUSPENSION BRIDGE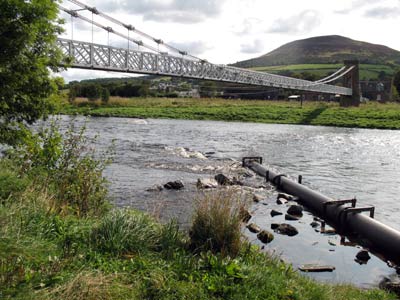 An old suspension bridge linking the village of Gattonside with the town of Melrose. It was refurbished in 1928 and strengthened in 1991 by Travers Morgan when it was virtually rebuilt apart from the towers or pylons. The timber deck was replaced and new chains and hangers were added. The bridge is suspended from stone pylons at either end. It was built and erected by Redpath, Brown and Co. from a design by John Smith.
Before reconstruction the bridge had a much 'lighter' and graceful look. Notices on the towers warn that no more than 8 persons should cross the bridge at one time and that bicycles should not be ridden and that 'no intentional swinging of the bridge allowed'. The new bridge is much stronger. It is reached from Gattonside along a road south from the village and there are fields on the other side of the bridge with a road leading to Melrose. The former toll house is also at this side. You can see the bridge before reconstruction at Gattonside Suspension Bridge. It is Category B listed.
Gattonside Suspension Bridge Facts
Constructed - 1826/1991

Type - suspension, iron chains and rods, latticed railings.

Position: Gattonside, Roxburghshire, Scotland.

Grid Ref: NT 545 345
Gattonside Suspension Bridge