TWEED BRIDGE, PEEBLES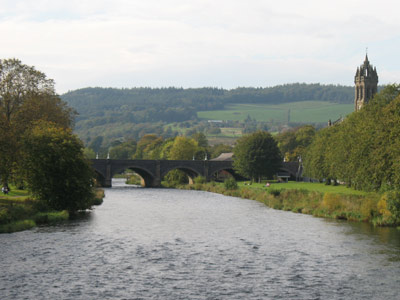 "A small burgh set in a secluded valley enclosed by sheltering hills, Peebles Old Town occupies a low ridge N of Eddleston Water, the New Town a peninsular between Eddleston Water and the River Tweed."

The Buildings Of Scotland. Borders. Kitty Cruft, John Dunbar and Richard Fawcett. 2006.
An old bridge, originally constructed in the 15th century but much altered and repaired. It was widened in 1834 by John and Thomas Smith, and again in 1897-1900 by McTaggart, Cowan and Barker, engineers. Three extra arches were built at the south end in 1799 but replaced by a railway bridge about 1865. The width has increased from 8 feet to 40 feet over the years.
The bridge carries the B7062 road from Traquair over the Tweed to the town centre. Cast-iron lamps of entwined dolphins decorate the piers. Category A Listed.
Tweed Bridge, Peebles Facts
Constructed - 15C

Type - 5 arches, stone.

Position: Peebles, Peeblesshire, Scotland.

Grid Ref: NT 251 402
Tweed Bridge, Peebles