NEIDPATH VIADUCT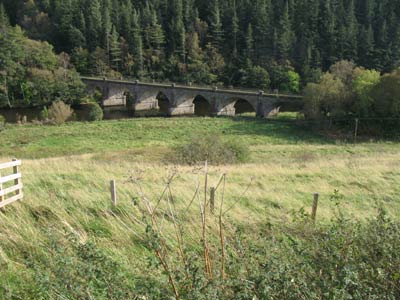 "Built in a magnificent setting to take the Caledonian Railway across the River Tweed, leading dramatically into South Park tunnel."

The Buildings Of Scotland. Borders. Kitty Cruft, John Dunbar and Richard Fawcett. 2006.
A very impressive railway viaduct in an equally impressive setting it closed in 1954 and formerly carried the single track Symington - Peebles branch of the Caledonian Railway. It closed to passengers in 1950. Category A Listed. It now carries a footpath across the river and to the east is the Neidpath tunnel.
The architect was Robert Murray and the engineer George Cunningham from the railway company. Alternatively named the Queen's Bridge. It is 9.75 metres or 32 feet above the river and has 9.9 metre spans.
Neidpath Viaduct Facts
Constructed - 1864

Type - 8 arch, sandstone, skew arches, cast-iron parapet railings.

Position: near Peebles, Peeblesshire, Scotland.

Grid Ref: NT 996 528
Neidpath Viaduct