MOUTH OF THE TWEED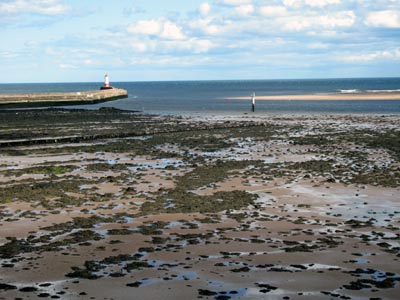 "Berwick is that rare survival: a perfectly walled town. Except where a hole has been bashed for the passage of the A1 it is completely surrounded by a wall, pierced by gates, and for much of its length it is of a period and pattern which makes it unique in Europe. Besides being of enormous antiquarian interest, and a notable tourist attraction, this wall gives the town a quite extraordinary beauty and charm."

The Companion Guide to the Coast of North East England. John Seymour. 1974.
The mouth of the Tweed is protected by a pier on the north side and the port has been important since the middle ages. Timber, corn, salmon and other exports went south, mainly to London. Imports were mostly on a smaller scale including wine, iron, flax, tar and grains. There were some whalers. Cement became an important import in the 20th century and grains, timber and fertilisers are currently handled by the port.
Shipbuilding began in the 18th century and remained until the 1970s. and a dry dock was built. The pier on the Berwick side was opened in 1825. Tweedmouth opened its Tweed Dock in 1876 and harbour facilities were concentrated on this side of the river where the water was deepest. The Tweed Dock was improved in the 1990s, including dredging to enable larger shipes to use the port. To the south are Tweedmouth and Spittal sands.
River Mouth and Berwick Facts
Constructed - not applicable

Type - not applicable.

Position: Berwick/Tweedmouth, Northumberland.

Grid Ref: NU 005 525
Tweedmouth