SWALWELL BRIDGE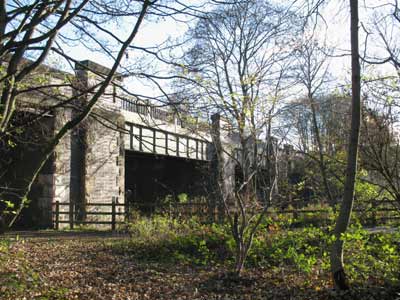 Built to provide a crossing adequate for ever increasing motor traffic, the bridge, sometimes known as the New Derwent Bridge, links Swalwell with the roundabout just to the north where roads go east for Derwenthaugh and Scotswood Bridge, north for Blaydon and westward up the Derwent valley. It is a modern structure in steel, at a higher level than the old bridge it replaced, and has footpaths on each side. The road alignment was changed when the new bridge was constructed, running slightly to the west of the former alignment which became an access road to the cricket ground.
Underneath the bridge, on the north side, once ran the old 'Main Way', the railway carrying coal and coke to the staiths at Derwenthaugh, and the bridge was built with a sufficient span to accommodate this railway which closed in 1985 and is now a footpath and cycle track.
It is similar in construction to both the Lambton A183 and the Croxdale A167 bridges in County Durham.
Swalwell Bridge Facts
Constructed - 1927

Type - beam, steel.

Position: At Swalwell, Tyne and Wear.

Grid Ref: NZ 197 624
Swalwell Bridge