LOCKHAUGH RAILWAY VIADUCT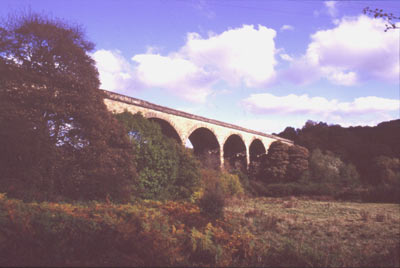 This railway viaduct is sited at a curve of the river and was built as part of the Consett Branch of the North Eastern railway. Originally a single line, it was widened to take a double track in 1905-08. Built mostly of sandstone with bricks beneath the nine arches it is 500 feet long and 80 feet above the river.
There is a deep cutting, 60 feet in depth and half a mile long, west of the viaduct at Lockhaugh and together these features form an attractive part of the Derwent Walk. From the viaduct's heights spectacular views are obtainable of the Gibside Estate to the southwest. The house and grounds there were created by coal owner George Bowes whose father had inherited the estate. Tree planting, a chapel, stables, an orangery and banqueting hall were all George's developments as was the most prominent feature to be seen from the viaduct, the statue of British Liberty on the hillside opposite. The monument is 140 foot high and topped by a 12 foot statue of a lady carved in situ with a protective shed around it, it cost about £2000 in all in 1757. The trees on either side of the valley here are particularly pleasing in autumn. Bird watcher's use the viaduct as a vantage point from which to look out for the red kites which have recently been introduced into the valley. Recent publicity material refers to the bridge as the Nine Arches Viaduct.
Lockhaugh Viaduct Facts
Constructed - 1836

Type - arch, 9 segmental arches, stone.

Position: Lockhaugh, near Rowlands Gill, Tyne and Wear.

Grid Ref: NZ 173 587
Lockhaugh Viaduct