ROWLANDS GILL RAILWAY VIADUCT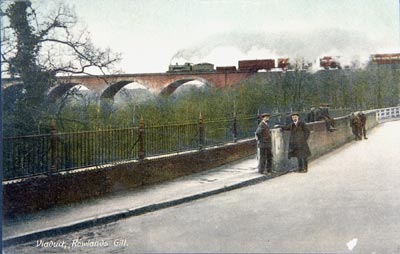 The second of the major viaducts on the Derwent Valley railway to Blackhill and Consett, the bridge was opened in 1867 and wide enough for a double line. Built of red brick with stone abutments it has seven arches, and is 80 feet above river level with 60 foot spans. The bridge is only a short distance from the road bridge, around a bend in the river whose banks are heavily wooded. Nearby to the north west at Friarside are the remains of the Friary.
The station for Rowlands Gill was east of the viaduct and looped around to pass under the main road twice to the east. One station platform, together with the station master's house, can still be seen among the houses built on the site. The line to Blackhill from this point had an almost continuous gradient of 1 in 66. The opening of the railway stimulated coal mining and thus began the growth of the village.
The top view is from an old postcard and is a rare photograph of a train crossing the viaduct taken from the Derwent road bridge
Rowlands Gill Rail Viaduct Facts
Constructed - 1867

Type - arch, 7 segmental arches, brick.

Position: Rowlands Gill, Tyne and Wear.

Grid Ref: NZ 581 167
Rowlands Gill Railway Viaduct