A1 BRIDGE AT SWALWELL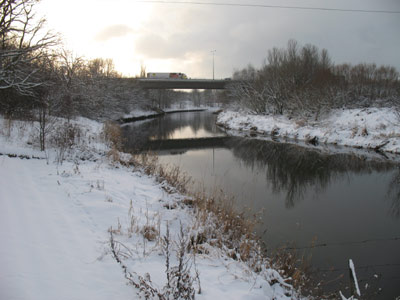 This is the major bridge on the Derwent, officially the A1 Swalwell Interchange bridge, and carries the A1 Trunk Road across the river at Swalwell. The bridge was part of the Gateshead western By-Pass, opened in 1974 and designed as the first section of a trunk route which was eventually in 1990 to completely by-pass Gateshead and Newcastle to the west. Major repairs were completed in 2007, involving repair/replacement of bridge joints, replacement of deck drainage and resurfacing.
The river is not wide and the dual carriageway is carried on embankments, crossing the river in one span. Construction of the bridge meant dredging to remove two small islands nearby, and the building of the embankments and associated slip roads in Swalwell necessitated considerable changes to the landscape, including the destruction of many allotments and of the Keelman's Bridge which crossed a mill race associated with the former Crowley iron works. The bridge is easily the busiest on the Derwent carrying much local as well as through traffic.


A1 Bridge At Swalwell Facts
Constructed - 1974

Type - beam, concrete.

Position: Swalwell, Tyne and Wear.

Grid Ref: NZ 203 624
A1 Bridge at Swalwell