OLD SWALWELL BRIDGE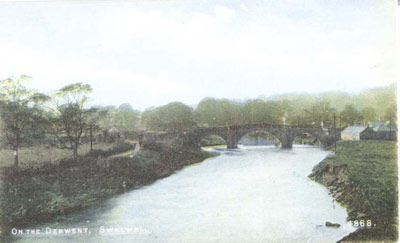 This is one of the Derwent's older bridges, dating from about 1760, when an advertisement inviting tenders for its construction appeared in the Newcastle Courant. Built by the Clavering family of local landowners who lived in nearby Axwell Hall, it carried the main turnpike road from Gateshead to Hexham over the Derwent until it became inadequate for 20th century traffic and a new bridge was built 100 yards to the west. Only 16 feet wide it has three arches and cutwaters which serve to break up and divide the current and prevent damage to the structure from debris carried down the river at time of flood. It is Grade Two listed. A gas main on the east side of the bridge deck was removed in 2015 and the surface given new tarmac.
On the east side is an aquaduct in stone and with lattice girders carrying a cast iron/steel water pipe fed from Benwell reservoir carrying water to a pumping station in Gateshead which supplies that town. This somewhat spoils the appearance of the bridge when viewed from upstream to the west but sand blasting and re-painting in 2015 have improved the appearance. On the south side is the old toll house, still inhabited and known as Bridge End Cottage, and it is Swalwell's second oldest building after the former Angel Inn.
The bridge is used by pedestrians and cyclists to provide access from Swalwell to the Derwent Park or to Derwenthaugh via paths on the north side of the river. A few vehicles still cross to a garage on the north side where once a smithy existed. The river banks are wooded from here virtually to the river's source and, like the Hikey Bridge downstream, there are good views of the former railway bridge from the old stone parapets. An old postcard from the early days of buses shows one of these vehicles dangling precariously over the bridge having crashed through a parapet. A level crossing once existed just to the north of the bridge, over which ran the 'Main Way' coal-carrying railway from northwest Durham pits to Derwenthaugh.


Old Swalwell Bridge Facts
Constructed - about 1778

Type - arch, 3 segmental arches, stone.

Position: at Swalwell, Tyne and Wear.

Grid Ref: NZ 198 624
Old Swalwell Bridge