SHOTLEY BRIDGE FOOTBRIDGE 1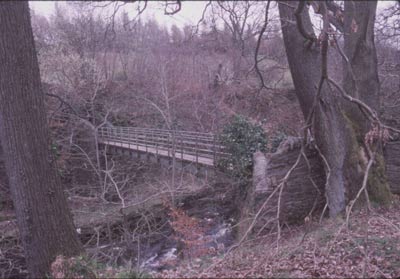 A little to the west of the road bridge is a footbridge, sometimes called the Blue Bridge, with several steps up, reached along footpaths on the north side of the river and on the Durham side is reached from a minor road from the village which leads past the bridge up a steep hill towards Blackhill. The bridge replaced an older wooden more rickety bridge in the 1960s and is on a rocky part of the river with the path on the north side quite high above and the footbridge leads back up to the minor road high above the Derwent.
The river is strewn with stones above the bridge but quieter downstream where the walk continues to the road bridge.
Shotley Bridge Footbridge 1 Facts
Constructed - not known

Type - beam, single-span, girder with wooden walkway.

Position: Shotley Bridge, on County Durham/Northumberland border.

Grid Ref: NZ 084 518
Shotley Bridge Footbridge 1