DERWENT BRIDGE AT ROWLANDS GILL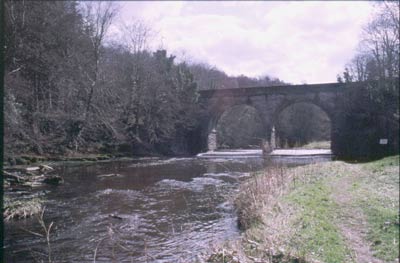 This attractive stone-built 19th century road bridge is on the road from Rowlands Gill to Burnopfield. It is called the Derwent Bridge and is alongside the site of the old Cowford Bridge when a wagonway was built down the hill and over the river to carry coal from pits at Pontop and Hobson near Burnopfield, and continuing down the Derwent valley along the Main Way to Derwenthaugh staiths. The bridge here existed long before the village of Rowland's Gill, which owed its existence to the railway and the subsequent development of coal mining in the area. This point marks a change of county. Up to here the Derwent has flowed entirely within the county of Tyne and Wear (created in 1974 from parts of both Northumberland and Durham), but from here to Blackhall Mill it marks the boundary between Tyne and Wear and County Durham to the south.
The present bridge replaced an older one which collapsed and was temporarily replaced by a wooden bridge. The road from the bridge climbs up a steep hill called Busty Bank, and the entrance to the Gibside Estate, now a National Trust property, is slightly up the hill on the left. Another lane goes off to the right towards Friarside. The river here is quite deep and can be dangerous. The river is heavily wooded as ever.
Derwent Bridge at Rowlands Gill Facts
Constructed - 1869

Type - arch, single arch, stone.

Position: Rowlands Gill, Tyne and Wear.

Grid Ref: NZ 581 168
Derwent Bridge at Rowlands Gill