SHOTLEY BRIDGE
- AND PIPE BRIDGE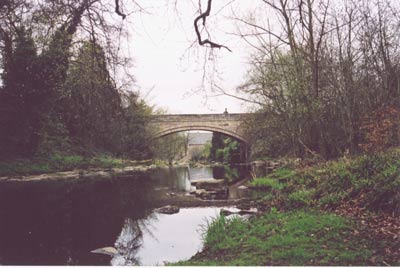 "The Shotley bridge and District Gas Works occupy a prominent position at the entrance to the town, but without adding much to the beauty of the view."

Guide To The Vale Of Derwent. Jas. F. Robinson. 1892
The gasworks referred to above are long gone but the village still has its attractive single-span stone bridge of probable 18th century design, but widened and repaired, possibly in 1831, by local architect and builder Mr Jonathan Marshall. It links Shotley Bridge with the Edmundbyers and beyond, as well as small settlements on the north side of the Derwent. The western arch preceded the eastern. It ws reported that some inhabitants of the village contunued to walk on the original western arch bulieving the new addition to be unsafe, though it was built with the same materials and on the same rock. It is thought that an earlier bridge existed in medieval times, possibly wooden, and a ford was sited here too. The bridge is grade 2 listed.
The river flows over a rocky bed just upstream of the bridge and into a pool called Jenny's Hole. Oak and beech trees line the banks to the west while to the east are numerous new housing developments of stone which complement the bridge and its former associated industrial buildings when paper, wools, and corn mills were driven by Derwent water power.
The County Durham village of Shotley Bridge is an old one and from the late 17th century was associated with swordmaking after swordmakers came from Solingen in Germany and developed a famous industry, their swords bearing the symbol of a fox. The village had a spa during the 19th century and the railway brought many visitors. There are walks on both sides of the river bank which has undergone a major building programme of stone-built houses and apartments which add to the attractiveness of the area.
The upper picture is a modern view and the lower is from an old postcard with the old buildings glimpsed through the arch.
There is a water pipe carried across the river on girders about half a mile east of Shotley Bridge near a new housing development, and this appears to have a metal walkway as part of the structure (see picture below).


Shotley Bridge Facts
Constructed - 18th century?, widened 1831.

Type - arch, single-span, stone.

Position: Shotley Bridge, on County Durham/Northumberland border.

Grid Ref: NZ 090 528
Shotley Bridge/Pipe Bridge