SHOTLEY BRIDGE FOOTBRIDGE 2

SHOTLEY GROVE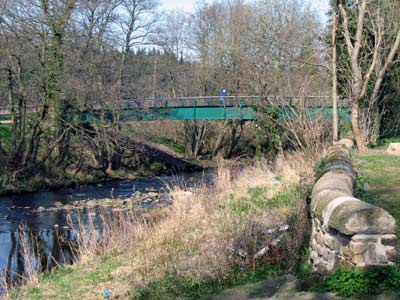 Floodwaters carried off most of the old bridge on 6th September 2008 (see pictures below). The new bridge, called the Papermill Footbridge, was constructed a hundred yards downstream of the old one and it is wider (2 metres) and 30 metres long and is of more solid construction. It came in two sections which were then bolted together. Its height makes it safe from flood damage. It is located a few hundred yards west of Footbridge 1 and crosses the river near the end of a footpath branching off the narrow minor road which climbs steeply up the western edge of Blackhill towards Allensford. There are houses on both sides of the footbridge, including a very old farmhouse. The Derwent is as usual, very wooded here and the footbridge is often shaded in summer when the trees are covered with leaves.
The river is fairly shallow and this is a quiet spot away from the traffic and with a pleasant walk along the path on the north side where new fencing has been erected.
On Saturday 6 September the bridge was severely damaged by floodwaters when heavy rain caused the Derwent to swell and flood. The bridge already had scaffolding erected while under repair and ready for painting.
Difficulties in gaining access to land by Durham County Council delayed the erection of the new bridge until 2011 and caused resiting downstream.It is believed to have cost about £200,000.
Shotley Bridge Footbridge 2 Facts
Constructed - 2011.

Type - beam, single-span, steel, wooden deck.

Position: Shotley Bridge, on County Durham/Northumberland border.

Grid Ref: NZ 088 524
Shotley Bridge Footbridge 2