EBCHESTER OLD BRIDGE
- AND PIPE BRIDGE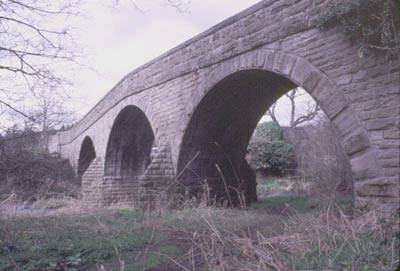 "Everybody loves a bridge. They are essentially romantic objects - brave, adventurous, usually handsome or at least interesting to look at, often magnificently idiosyncratic and every single one of them a seperate individual with its own personality, pedigree and background, each time to be freshly encountered and enjoyed."

Bridges. Sir Hugh Casson. 1963
An old stone bridge built in 1862 and Grade 2 listed, it is on the site of a Roman bridge on Dere Street. The humpback bridge is narrow, being only ten feet wide, and hence unsuitable for the late 20th century traffic it was called upon to carry and was replaced by a new bridge in 1973. A wooden footbridge on stone piers once existed upstream as well as a ford.
Ebchester is in County Durham and the oldest village in the valley. It wa the site of a former corn mill and of a fulling mill, as well as a poss stick mill which functioned until demand declined in the 1920's. A poss stick was a specially-shaped wooden stick used to pound clothes while washing them in a poss tub. The wood was obtained locally and cut in a nearby sawmill. Dying and bleaching was also carried on here. The old church of St Ebba was of Norman origin although much altered and with links to the Roman period shown by an altar in the tower and stones used in its building.
The top photograph shows a 2005 view of the bridge while the lower one is an old view taken when the bridge was still on the main road before the new bridge was built.
There is also a pipe bridge carrying two water mains across the river adjacent to the sewage works between Ebchester and Shotley Bridge, map reference NY 098 551. See picture below.
Ebchester Old Bridge Facts
Constructed - 1862

Type - arch, three spans, stone.

Position: Ebchester, on County Durham/Northumberland boundary.

Grid Ref: NZ 100 556
Ebchester Old Bridge/Pipe Bridge