THE DAMHEAD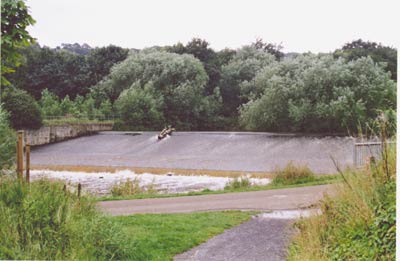 Although not a bridge, this structure marks the tidal limit of the Derwent. Another weir exists near the A1 Bridge a mile downstream, but the tide flows over this at high tide. The Damhead, a milldam, was built in the early 18th century to provide water via a millrace for the former Crowley Iron Works at Swalwell, once, together with workshops in other local villages, supposedly the largest in Europe. Sometimes called The Lady's Steps, The Damhead has a steep slope of considerable length and often traps tree trunks brought down river after heavy rains when the river foams quite noisily at its foot. It used to be a popular bathing spot and attracted people from further afield than just the nearby villages. A dangerous pool existed below the dam however, and in 1926 a young man from Newcastle was drowned while swimming below the weir. The lower view is from an old postcard which shows children playing below the dam.
The footpath to the Derwent Park, made on land reclaimed from the former cokeworks near Winlaton Mill, runs alongside the Damhead. Nearby are tennis courts and the Swalwell Juniors Football Clubhouse at a spot once alive with industrial activity, dirt and noise, now peaceful and sylvan again after the cokework's brief 56 years of existence from 1929.
The contrast between the normal peaceful river and dam and conditions on Monday September 8 2008 after continuous rain created flooding on many of the North East's rivers can be seen in the pictures below. A fish pass was built in 2012 to allow fish to once again pass up river.
The Damhead Facts
Constructed - 1691

One of several mill dams and weirs built on the Derwent to provide a head of water directed along mill-races and powering various types of mill.

Position: between Swalwell and Winlaton Mill, Tyne and Wear.

Grid Ref: NZ 617 193
The Damhead