THE BUTTERFLY BRIDGE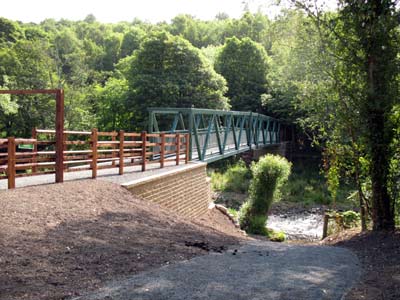 This footbridge is near the village of Winlaton Mill about two miles from the river mouth and links a path leading from the main road with the south side of the river to the Derwent Walk, an old railway path constructed along the former Derwent Valley railway which ran up to Consett. The bridge was replaced in June 2011, following flood damage on September 6 2008, when the old footbridge was swept away. The new bridge is of more solid construction and at a higher level than the former structure and is wider. Horse riders can cross at the ford just upstream of the footbridge.
The previous bridge was a reconstruction of one originally built in 1842 by local strongman and stonemason Jack English, popularly known as 'Lang Jack'. His bridge was destroyed by flood in 1902. On old maps the place is marked as Eel's Haugh. The name Butterfly Bridge supposedly comes from the fact that the Derwent Valley was a butterfly collector's paradise and enthusiasts began their expeditions from the bridge. The previous bridge dated from 1950.
The river is quite accessible here and there is a small sandy beach in the thickly wooded area of the bridge. The land on the south side slopes down very steeply to the river and steps up give access to the railway path built on a ledge constructed along the side of the hill. There is a pleasant meadow walk along the riverbank and also, by passing under the railway you can walk up Clockburn Lonnen, an ancient road from Durham down which passed Cromwells's army in 1650 on its way to a battle at Dunbar. A part of the Crowley Iron Works was situated near here in the 18th century and there was also a flour mill, a fulling (wool) mill and a drift mine from which coal was extracted. The village of Winlaton Mill was originally situated here but was demolished in 1937 and re-built at its present location.
Report of flood damage to previous bridge. 'On Saturday 6 September 2008 North East England experienced two days of almost continuous rain and this, combined with ground already saturuated by a very wet summer, caused river levels to rise alarmingly. The Derwent soon became a raging torrent and many large tree trunks were swept down river and the force of several of these hitting the bridge eventually dislodged it from its supports and it was carried away'.
The Butterfly Bridge Facts
Constructed - 2011.

Type - beam, concrete on stone pillars.

Position: Winlaton Mill, Tyne and Wear.

Grid Ref: NZ 604 187
The Butterfly Bridge