STANNINGTON TO TREWICK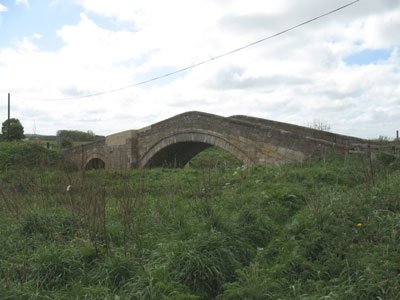 "Until 1987 Stannington was bisected by the A1 it is now bypassed to the east. On the main road in the village are two pretty little bus shelters by Laurence Whistler, presented to the village to mark the coronation of George VI in 1937. They are wooden, with swept slate roofs, and arched iron-framed casement windows in one end."

The Buildings of England. Northumberland. N Pevsner. 1992.
This stretch of the Blyth is completely rural. Leaving Stannington the river flows through Blagdon estate, much of which is forested. There are a number of footbridges on this privately owned estate which is not generally open to the public except during special events and no photographs have been possible. A little further west is the old Bellasis bridge, and Kirkley Hall agricultural college lies just west of Thornyford bridge. The river then flows north past Twizell, returning to its westward course near Shilvington, with another old bridge. Passing to the north of the small but attractive village of Ogle the Blyth then runs through farming country to Trewick with its early twentieth century stone bridge.
A few footbridges are also to be found on this section of the river in isolated locations reached by public footpath. This is country rarely visited by the tourist and the roads are fairly quiet.
Opening Dates of Present Bridges
Several bridges on the Blagdon Estate -not shown.

Bellasis - 16th or 17th C.

Ponts End Footbridge - 1981.

Whinney Hill Footbridge - 1994.

Thorneyford Bridge - about 1964.

Twizell Farm Footbridge - 2007.

Shilvington Bridge - 18th C.

Ogle Bridge - 1923.

Ogle Dean Footbridge - not known.

Trewick Bridge - 1908.
Trewick Bridge