PLESSEY RAILWAY VIADUCT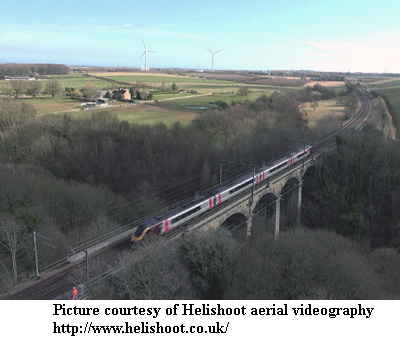 "The main line was built in stages. the first was the 14 and a half miles from Heaton (junction with Newcastle and North Shields Railway) to Morpeth opened on the 1st March, 1847. The second stretch was from Tweedmouth southwards to Chathill, a distance of nineteen and three quarter miles opened on the 29th March, 1847. The twenty-nine and a half mile gap between Chathill and Morpeth was completed on the 1st July, 1847, enabling passengers to travel from Newcastle to Tweedmouth, and leaving only two breaks in the London to Edinburgh through route. These were of course the bridges over the Tyne and Tweed. It is to be remembered that the early trains had to cross the rivers Blyth, Wansbeck, Coquet and Aln on primitive trestle bridges until the fine stone viacucts designed by Robert Stephenson were ready for use in 1849-50."

Main Line Railways of Northumberland. C. R. Warn. 1976.
Built by the York, Newcastle and Berwick Railway in 1849/50, replacing a timber trestle bridge of 1847. It is on the Newcastle to Morpeth stretch of the East Coast Main Line and was originally spanned on 1st March 1847, Robert Stephenson's handsome stone viaduct replacing it in 1849/1850. The railway approaches across open farmland on both sides on a gentle curve.
Of all the bridges so far covered (2011) this has been the most difficult to photograph, its position high above the river making it difficult to view from the footpaths below due to foliage from trees in the deep river gorge which obscure the bridge. Access from bridge level on both sides is very difficult also. In winter it is possible to get a clearer picture. However, the aerial photograph above, taken in 2014, at last gives us a clear view of the viaduct.
Plessey Railway Viaduct Facts
Constructed - 1849/50

Type - 3 arches, masonry.

Position: Plessey, near Stannington, Northumberland.

Grid Ref: NZ 243 799
Plessey Railway Viaduct