BRADFORD TO BLYTH SOURCE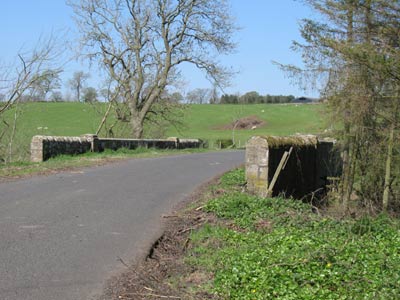 "Kirkheaton Manor. A C16 bastle or strong-house refronted in the early or mid-C17 with hoodmoulded, three-light mullioned windows and a doorway with a hoodmould and a depressed pointed head."

The Buildings of England, Nortumberland. N. Pevsner. 1992.
The final stretch of the Blyth is rural like most of the river. Leaving Bradford it turns slightly south west, and runs through two woods, Hubert's Plantation and Long Plantation, and is crossed by two minor roads before passing to the north of Kirkheaton beyond which is its source amid gently rolling hills.
Near Kirkheaton is a small windfarm. There are few bridges and little traffic on the roads which cross them.
Opening Dates of Present Bridges
Long Plantation Bridge - not known.

Capheaton - 1886, reconstructed 1928.

Sandybraes Bridge - not known.

Kirkheaton Footbridge - not known.

Cocklaw Walls Footbridge - not known.
Kirkheaton Windfarm