BEDLINGTON RAILWAY VIADUCT
(THE BLACK BRIDGE or KITTYBREWSTER VIADUCT)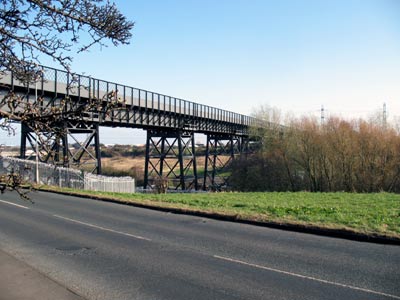 "Bedlington's character is now that of a coalfield village (the first mine was sunk in the 1840s), but it has a long history. It was once the capital of Bedlingtonshire, which formed part of the County Palatine of Durham."

The Builidngs of Northumberland. N. Pevsner. 1992.
The first railway bridge from the river mouth it is, like the similar bridge over the Wansbeck, known as The Black Bridge. The railways in the Northumberland coalfield had developed from the early wagonways transporting coal to the rivers for onward shipment. The Bedlington Coal Company built the first Bedlington Viaduct in June 1850 at a cost of £26,000 as part of its line from Newsham to Bedlington. It was a timber trestle bridge designed by Robert Nicholson, 80 feet high and 770 feet long and it crossed the river between Bebside and Bedlington. In 1855 the Blyth and Tyne Railway bought the Newsham to Bedlington line and constructed a single line onwards to Morpeth via Choppington and Hepscott and eventually to Ashington and Newbiggin with the building of the Wansbeck Viaduct.
In 1930 the London and North Eastern Railway had the old bridge replaced by the present iron bridge at a cost of £55,290. The old wooden structure was demolished in 1930. Coal was the main traffic over the line but passengers were also carried from early days, the local station being in the part of town known as Bedlington Station. Passenger traffic to Morpeth via Hepscott over the viaduct ceased in 1950 and to Bedlington, Ashington and Newbiggin in 1964.The viaduct is still in use for freight trains to/from North Blyth and Lynemouth though the Rio Tinto/Alcan plant is to close in 2012.(closed March 2012. Trains to Lynemouth ceased in 2015 when Lynemouth power staion closed for conversion from coal-burning to biomass.). The viaduct was recently renovated.
Bedlington and the surrounding district was once a detached part of Durham and known as Bedlingtonshire, giving its name to the famous terrier. It no longer produces coal or iron and Bedlington is now a largely residential town. The lower picture shows the 0925 North Blyth to Fort William train crossing the viaduct.
Bedlington Railway Viaduct Facts
Constructed - 1930

Type - beam, 10 span, twin steel girders with cross beams and RC slab on steel box section piers (eastern); 5 span PSU beams, deck slabs linked on RC' portal frame' piers and RC abutments (western).

Position: Bedlington, Northumberland.

Grid Ref: NZ 279 823
Bedlington Railway Viaduct