STANNINGTON A1 BRIDGE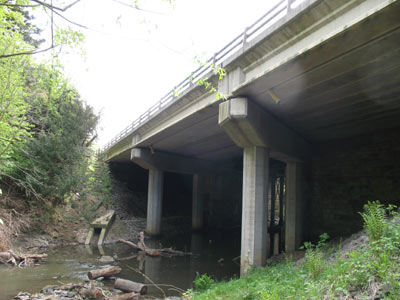 "Stannington Bridge carries the Great North Road, now the A1, over the River Blyth. It is an elegant bridge, built with balustered parapets on the west side."

Bob's Bridges. Robert Robson. 1998.
Stannington village was on the A1 until 1987 when it was bypassed to the east. Recent improvements have seen new roundabouts and slip roads built. The A1 dual carriageway crosses the river Blyth to the south of the village and was originally just a single carriageway bridge dating from 1932. Another bridge alongside just to the east was constructed in 1987. The two bridges are of different construction and drivers are scarcely aware they are crossing the river. The A1 here links Newcastle, Gateshead and the south with Edinburgh, with connections to Morpeth, Alnwick and Berwick. The photograph below shows the view north up the A1 with the bridge located where the road dips. The lower picture shows the new and old bridges from underneath.
Stannington is an attractive village for long associated with the Ridley family at nearby Blagdon Hall and estate. Much of the land is farmed or woodland but some open cast coal mining on a large site to the south east is recently in operation.
In 1969 a footbridge was erected across the A1 in the middle of the village to enable pedestrians to cross the busy road. With the construction of the bypass the footbridge was no longer required and it was re-erected at Lesbury on the River Aln.
Stannington A1 Bridge Facts
Constructed - 1932 -upstream; 1987 -downstream

Type -beam, upstream,steel and concrete clab, masonry abutments; downstream; prestressed precast M-beams with initu reinforced concrete deck slab. Concrete abutments and piers.

Position: Stannington, Northumberland.

Grid Ref: NZ 217 784
Stannington A1 Bridge